Dear Pennies & Pens,
Created in 2010; de la Pen…All Pen Everything is a multicultural lifestyle magazine published by ISLP. de la Pen…All Pen Everything is based in Dallas. We use our ink to create high quality, original, and unique content to empower our audience to ink the life they've always wanted. #InkWithUs.
#TeamISLP consists of creative souls with vast interests and multiple talents hence why we feature diverse topics. We are committed to writing dope ink that makes the page come to life. That said, we focus on writing about topics we genuinely care about because it makes our content more real and relatable.
Also, it's easier to create content about something you know about or have experienced – we don't want our content to ever seem fake or forced. Also, we only write about our experiences. This way, we only endorse products, places, people, or experiences that we've experienced firsthand. Again, we do this because #aintnobodygottime for #fakeink.
In fact, each topic featured on de la Pen has a personal connection to #TeamISLP (the creative team behind de la Pen). Therefore, we feature a variety of topics such as:
Multicultural + International + Vegan =

Fashion

Multicultural + Vegan + Organic =

Beauty 

Multicultural + Modern + Historic =

Art

Hip-hop + R&B + Pop =

Music

Comedies + Musicals =

Films + Theatre

Vegan + Multicultural =

Food

Emerging + Established =

Wineries + Breweries

Hidden Gem + Popular =

Travel Destinations

Boutique + Lifestyle =

Hotels

Social + Business =

Events
Creative + Lifestyle + Personal + Business = Advice + Tips
Pen.Style
Fashion
Dear Pennies & Pens,
We feature multicultural + international + vegan fashion because we believe that there needs to more media coverage of multicultural and vegan brands to help diversify the fashion industry.
For the past 9 years, we have been covering the fashion industry in Dallas and New York. We have featured a variety of emerging and established designers such as Mory Jay by Memory Jora, BabaAfrik Outfits, and Strut in Dallas as well as Erin Barr, Daniella Kallmeyer, and LaQuan Smith in New York.
Beauty and the Pen
Beauty
Dear Pennies & Pens,
#TeamISLP includes naturalistas with almost 15 years of natural hair experience which means that we've tried every product on the market. So we know what works and what doesn't. In essence, we're going to be creating tutorials, product reviews, and talking about all things au naturel. We're going to make sure that fro stays flo.
Also as coco goddesses, we know a thing or two about foundation matches, so don't worry, we got you, boo!!! We're going to search high and low to find dope products that will make your skin glo like your soul.
We'll figure out which foundations go past tan, the powder that doesn't make your skin look ashy, and the bras that give you more bounce to the ounce. Beauty and the Pen is here to help you get your Belle on.
Pen's Eye
Art
Dear Pennies & Pens,
We feature multicultural + modern + historic art because we believe that art imitates life and vice versa. We like looking at art because it makes us feel cool and deep. There's nothing better than staring at some art with a glass of wine in your hand. Your mind starts getting all creative and thoughtful. #dopeshit
We grew up surrounded by art so when starting de la Pen, we knew we would be featuring the topic. However, we found that there wasn't much content out there on art that was written in a real and relatable way. So we decided to change that and ink the page about art.
Therefore, we're going to use Pen's Eye, to visit museums, art galleries, and art exhibition to discover unique and original art. We're also going to interview and feature artists because they're the ones creating the pieces that we love. We want to learn more about their creative process and why they create the work they do.
Pen's Rhythm Nation
Music
Dear Pennies & Pens,
We feature 90s + Contemporary Hip-hop, R&B, and Pop music because this is what we mostly listen to. We grew up in the 90s and we're millennial adults so this is the music that we believe defines our generation.
We do dabble in some jazz, rock, and country but most of what you'll find here is in the previously stated genres. Again, our goal is to keep it real so we don't want to write about anything we're not into.
We like inking the page about music because we're music connoisseurs. Plus, we feel like most blogs and online mags write 1-2 sentences about an album or song then post a link and that's it.
We want to write real reviews and talk about the songwriting, the production, the album art, etc. Basically, we want to create original content about music. We're forming our own, Pen's Rhythm Nation.
Pen's Flicks
Film
Dear Pennies & Pens,
We ink the page about the movies because we love film! We love the way films incorporate writing, music, fashion, art, acting, cinematography, etc. Movies bring together so many different art forms and we love how each film tells a unique story.
Our film section, Pen's Flicks features movies that chronicle and depict the multicultural experience. We also want to support the work of multicultural creatives in the film industry.
Our sister company, 8515, hosts Pen's Flicks events in Dallas to help Pennies & Pens make new friends and network to meet new business contacts.
Since 2017, 8515 has hosted four Pen's Flicks events including Hidden Figures, Black Panther, Nobody's Fool, and What Men Want.
V-Ink
Food
Dear Pennies & Pens,
We love food, lil baby! Nothing makes us do a literal happy dance more than some good ass food. So of course, we have to share the best eats with you, our Dear Pennies & Pens. Since our CEO LoudPen is Vegan, we'll mostly be featuring Vegan food and restaurants.
It would be dumb for us not to focus on Veganism when the very creator of this site and our parent company is Vegan. Plus, honestly the Vegan niche has landed us more food sponsors than ever and our Vegan food posts get more likes. You can judge us for that last comment but when you're trying to build a brand and business…
Anywho, you'll see us featuring Vegan recipes and meal ideas as well as Vegan and Vegan friendly restaurants. Our recipes will be our own original creations – don't worry, Penny's been Vegan for 4 years now and has fucked up enough recipes to know what to share and what not to share.
We'll also be featuring Vegan restaurants in Dallas as well as the ones we encounter on our travels. We also like featuring Vegan friendly restaurants because we like being able to eat out with our carnivore, pescatarian, vegetarian, and humanitarian friends because can't we all just get along?! If a restaurant wants to be open minded and accommodate all these different diets, then we want to support that!
Loud Brews and Penza + Vino
Wine + Beer
Dear Pennies & Pens,
What goes with food?! Wine + beer! We're newbie wine + beer connoisseurs so we like writing about wineries and breweries because it helps us learn more it.
We believe that there's nothing cooler than touring a brewery and sampling different pours or strolling thru a vineyard and tasting wine. So, if you've got delicious wine, good beer, and a cool brand story, we're down to sample your ink!
Since starting our journey as inksters, we've visited breweries in Birmingham, AL aka Good People Brewing, wineries in Kansas City, MO – Cooper's Hawk Winery, Speakeasy Brewing in San Francisco, and Ledson Winery in Sonoma, CA, Kieu Hoang Winery, and JaM Cellars in Napa, California.  We personally visited each of these breweries and wineries to create unique and original content about their wine and beer.
We believe in offering our audience a firsthand, behind the scenes look on what it's like to experience a brand's products and services. This way, we only endorse brands that we truly like.  Plus we can focus on creating positive content that adds value to the lives of our readers.
Pen.Point
Travel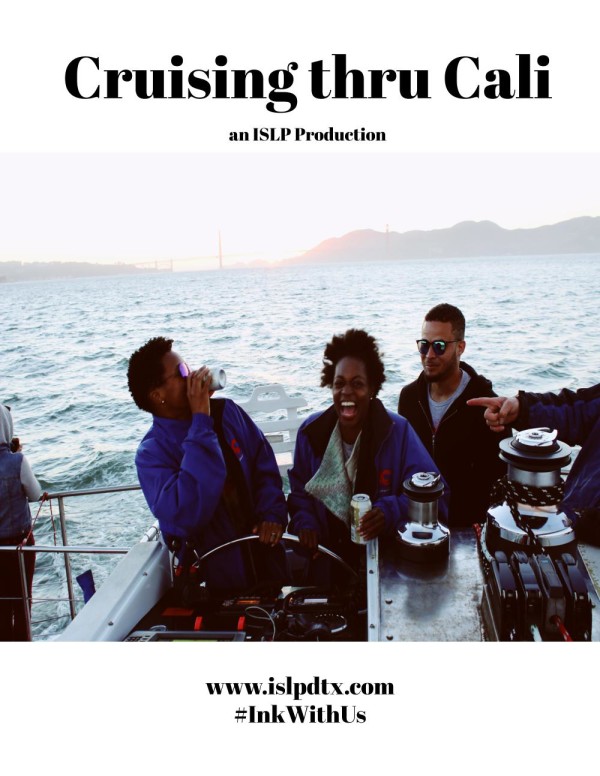 Dear Pennies & Pens,
Have we mentioned that Team ISLP loves to travel?! In essence, we create custom press trips to visit popular and hidden gem destinations. During each trip, we stay at boutique or lifestyle hotels and visit various different restaurants, museums, galleries, boutiques, wine bars, breweries, and attractions to create digital travel guides.
Cruising thru Cali is a digital travel guide created by ISLP. Cruising thru Cali offers an exclusive inside look on our press trip to California. We give you the low down on Cali's best Vegan restaurants, dispensaries, wineries, breweries, and attractions.
Cruising thru Cali offers insight on what to do in Cali, what to eat, what to wear, and how to navigate the golden state without a car. Team ISLP is here to teach you how to cruise thru cali — especially, if you're on a budget. Check it out here: Cruising thru Cali
We just returned from a press tip to Chicago and will be creating a digital travel guide called Chillin in Chi-Town, after that we'll be visiting Denver (Cruizing thru the Mile High), Portland (Penny in Portland), Nashville (Summer in the South), then we're headed overseas to London (Pen Tea), Copenhagen (Coolin in Copenhagen), and Florence (Penza + Vino). It's going to be some of the best ink to ever hit the page so stay tuned!
Live Loud
Events + Lifestyle
Dear Pennies & Pens,
We love going out and socializing so we attend and host local events in Dallas as well as in the places we visit to make new friends and network to find new business contacts.
We attend and host social + business events like dinner parties, wine tastings, brunches, pop up shops, workshops, and conferences. Our sister company, 8515, specializes in event planning so you'll definitely see us featuring and hosting events with unique experiences.
Last but certainly not least, we share creative + lifestyle + personal + business advice and tips. After almost 10 years of inking the page, our team has learned a thing or two about being a creative entrepreneur so we want to share our advice and tips with you. We've also been navigating the world of adulting for some time now and we've gotten 1-2 or things down pat. So, we'd like to share that as well.
To wrap up, The Longest About Page Ever, we'd like to say that each month de la Pen…All Pen Everything will be publishing a new issue. Each issue will focus on certain concept or theme and will incorporate the topics we cover. New issues are published by the 15th of each month.
Before we go, we'd like to say that de la Pen…All Pen Everything always keeps it real. With us, keeping it real never goes wrong.
And there it is. The Definition of de la Pen…All Pen Everything.